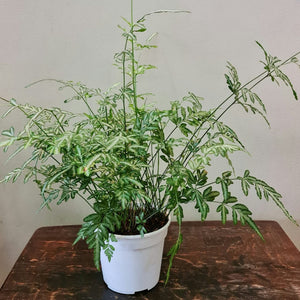 Tender Loving Care Advice for Pteris ensiformis 'Evergemiensis' in plastic pot :
This fern is commonly known as Variegated Brake Fern, displays colourful and silvery-white fronds with thin green margins. Exhibits an upright and clumping habit. It is excellent for containers inside or on a shaded patio. It is best to keep evenly moist or in humid spots, neutral to acidic, loose and richly organic soil.
Growing Conditions 
Light: It prefers Low-Medium filtered light in well ventilated areas.
Water: Regular misting prefers. Do not allow plant to sit in saturated or soggy soil otherwise it will quickly succumb to root rot.
Soil: It prefers porous, loamy soils and high in organic matter.
Fertilizer: Apply slow-release fertilizer once every two to three months.
Pests & diseases: Relatively pest resistance. The only possible common pests that bug the plant include spider-mites, aphids and white flies. If possible, identify the infestation as early as possible and treat it with the least toxic option.
*Product photo shown is for reference only. Actual pot colour, type of pot, size & arrangement may differ from photo.