Customised Gift Wrapping and Delivery Services

Sending this as a gift and want it to be delivered on a special day?
Customised Gift Wrapping and Delivery Services
Sending this as a gift and want it to be delivered on a special day?
FIND OUT MORE
What's New
Ghl Snake Plant Ionizer - SP2800
SNAKE PLANT IONIZER - SP2800
Snake Plant Ionizer SP2800 generates an average of 200,000 to 400,000 Negative Air Ions per cubic meter within a meter from the pot.

It consists of a self-watering pot that is able to provide the plant with enough moisture for optimal ion emission. The pot is well-insulated with an in-built proprietary Zero 2.5 Ionizer. Recommended for indoor environment and preferably, a room size of 10 to 15 cubic meter.
During the air ionization process, static will be generated from the plant. The amount of static generated is relative to the plant's air cleansing strength. Avoid touching the plant while ionization is in process.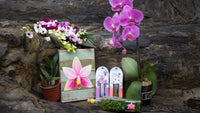 About Gardens by the Bay eShop
Our eShop is a way for you to bring home a piece of our Gardens!
Browse through a wide selection of plant & merchandise collections from the comfort of your home.
From a variety of colourful orchids and mini garden terrariums, to plant collections that are lovingly cared for by our horticulturists, our online shop has the perfect gift for every occasion!
Lovely blooms from Gardens by the Bay. Nothing like having nature in our own home to brighten up the day! We have never seen such a huge Orchid plant before. 70cm tall. Our moms love it too. So elegant!

Lynn
I gifted the phalaenopsis ox red sesame to my mother-in-law and a good friend who is celebrating her very 1st Mother's Day this year. They love the gorgeous blooms and certainly perked their day. Thank you for the swift and fast delivery!

Jennifer
I'm very thankful firstly on the impressive blooms of the Orchids I have received. Flowers are very pretty, healthy in terms of colours and sizes. Orders were delivered fast within a few days and the pricing is very reasonable.

Rose Chin
Flowers Never Stop Blooming
There's always something blooming in the Gardens.
Spend an afternoon with unusual plants from around the world in the cooled conservatories, swing by the OCBC Skyway for spectacular views from 22m above ground, and check out our ongoing programmes for a fun-filled day for the entire family!
Visit the Gardens at www.gardensbythebay.com.sg
Shipping Information
Domestic delivery services are only provided within Singapore.
Singapore: 4 - 7 working days
Your order will arrive on a weekday from 1:00 pm onwards.
Gardens by the Bay eShop is unable to deliver to PO boxes or APO/FPO addresses.
For International delivery, please email us at feedback@gardensbythebay.com.sg.
Due to the strict international restrictions imposed by various countries on agricultural imports, live plants are not allowed to be shipped to overseas