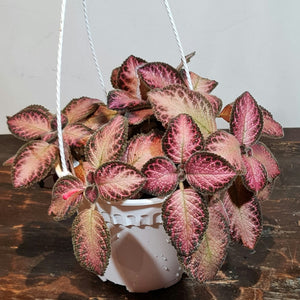 Tender Loving Care Advice for Episcia 'Pink Acajou' in white hanging plastic pot:
Episcia belongs to the family of Gesneriaceae and is often referred to as 'flame violets' or the 'chocolate soldier plant'. Episcia 'Pink Acajou' has light green leaves with a deep pink hue; the leaves are heavily quilted with bronze or pink hue on the edges. The flowers are red to orange with whorl of yellow at the center.
The species are perennial herbaceous plants characterized by a stoloniferous habit, red (rarely orange, pink, blue or yellow) flowers, and frequently have marked or patterned leaves.
They are commonly grown as hanging basket plants, or as potted plants for the table top or windowsill due to their bright and beautiful foliage.
Growing Conditions
Light: It prefers bright filtered light. Avoid direct sunlight that can scorch its foliages.
Water: Allow the plant to dry between waterings. Watering from bottom is preferred but shake off excess water after sitting in water.
Soil: It prefers moist, well drained potting soil which consists of high content of perlites/charcoal chips and peat base-substrates.
Fertilizer: Feed the plants every month 1-2 times with small amount of controlled release fertilizer, Nitrocote or Organic -pellets.
Others: No known serious pests or diseases though prone to red spider mites and mealy bugs. Regular check is required on foliages to avoid infestation of pests.
*Product photo shown is for reference only. Actual product may vary as each individual plant has its own appearance (colours, form and size), and pot colour may differ from photo. Plant may not be in a blooming state at the point of sale.