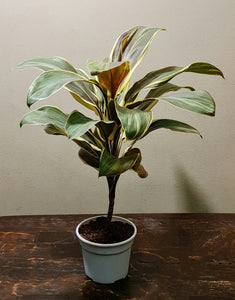 Tender Loving Care Advice for Cordyline Coco Compactor in plastic pot :
This cordyline plant is known for its unique chocolate brown foliage. Cordylines are native to warmer climates, but they can also thrive as houseplants. It is also known as Hawaiian Ti plant and commonly called the good luck plant.
Growing Conditions 

Light: It prefers bright, indirect light conditions when kept indoor. It can be grown outdoor under partial shade.
Water: Prefer to keep substrate moist but never too damp or soggy.
Soil: It can survive dry soil but prefers moist, very well drained potting soil with high content of perlites, loose & loamy peat. It work best in soil with PH neutral or light alkalinity.
Fertilizer: Feed the plants every 1-2 months with small amount of controlled-release fertilizer, Nitrocote or Organic-pellets.
Others: It subjects to pests like plant scale, spider mites and mealybugs at the base of the plant. Spray the cordyline every week or so with an insecticide in order to curb the pests. This plant is toxic to pets.
*Product photo shown is for reference only. Actual pot colour, type of pot, size & arrangement may differ from photo.