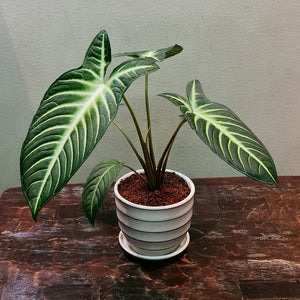 Tender Loving Care Advice for Caladium Lindenii in ceramic pot :
This unique stand-out patterning looking plant is commonly known as "Angel Wing". They are arrow-shaped with 2 oval-shaped lobes at the leaf base. Leaves are light to dark green and whitish along the major vein. This house plant variety is less common than others and makes an awesome talking piece for any urban jungle.
Growing Conditions 

Light: It prefers low to medium light conditions. Avoid direct sunlight that can scorch its foliage.
Water: Prefer to keep substrate moist at all times.
Soil: It prefers moist, very well drained potting soil with high content of perlites, loose & loamy peat.
Fertilizer: Feed the plants every 1-2 months with small amount of controlled-release fertilizer, Nitrocote or Organic-pellets.
Others: Susceptible to whiteflies, mealy bugs and pythium root rot. For some people, touching the leaves may irritate the skin.
*Product photo shown is for reference only. Actual pot colour, type of pot, size & arrangement may differ from photo.