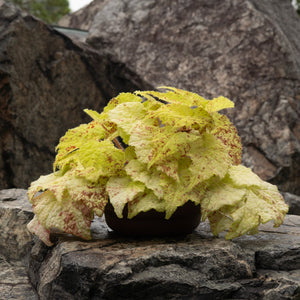 Begonia 'Marmaduke' is a unique cultivar with chartreuse yellow, hairy leaves speckled with burgundy red flecks. It produces lightly-scented pale whitish pink flowers. They grow in an upright clump and prefer well-drained, humus-rich soil. The bright colour makes it an eye-catching piece in your home garden.
Like most Begonia, it will tolerate full shade without direct or filtered sun, but wouldn't produce dense foliage. Provide sharp-draining potting substrate in shade and water when top layer is dry to the touch (yet avoiding soggy conditions). The ideal temperature range lies between 20-26°C.
Light: Place the plant in a well-ventilated area whereby it can receive around 4-6 hours of bright but indirect sunlight daily.

Water: Once or twice a day, water the plants thoroughly till excess water drains out of the pot. Do not allow potting substrate to dry out completely.
Temperature: Plant tolerates temperatures from 18-28°C.
*Product photo shown is for reference only. Actual product may vary as each individual plant has its own appearance (colours, form and size), and pot colour may differ from photo. Plant may not be in a blooming state at the point of sale.