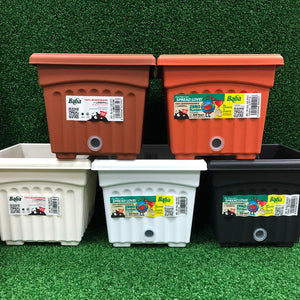 BABA SQ-150 is a 100% Biodegradable, durable, light weight and square plastic pot. It has a reservoir at the bottom for storing water if you are going away for the week. It has no holes at the bottom, and one hole at the side of the reservoir to drain out excess reservoir water while leaving a small amount for wicking to the soil, this hole can be plugged with the included silicon plug. Ideal for flowers and herbs.
Suitable for indoor and outdoor use, please remove hole plug if using outdoors to prevent flooding.
- Base: 11cmL x 11cmW
- Inner Top: 13.3cmL x 13.3cmW
- Overall pot size: 15cmL x 15cmW x 12.8cmH
Price of $5.00 is for each plastic pot.