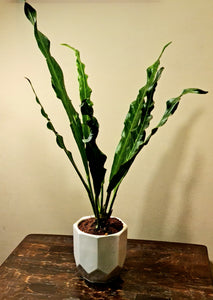 Tender Loving Care Advice for Anthurium Renaissance in ceramic pot :
Anthurium Renaissance has broad, long and lanceolate leaves with very short stems (petioles). One of the distinguishing features of this tropical plant is the wavy edges of the leaves. This anthurium species is an excellent specimen plant for containers.
Growing Conditions 

Light: It prefers bright, indirect light conditions. Avoid direct sunlight that can scorch its foliage.
Water: Prefer to keep substrate moist but never too damp or soggy.
Soil: It prefers moist, very well drained potting soil with high content of perlites, loose & loamy peat.
Fertilizer: Feed the plants every 1-2 months with small amount of controlled-release fertilizer, Nitrocote or Organic-pellets.
Others: Susceptible to aphids, spidermites, mealy bugs and pythium root rot. Keep plant away from children and pets.
*Product photo shown is for reference only. Actual pot colour, type of pot, size & arrangement may differ from photo.