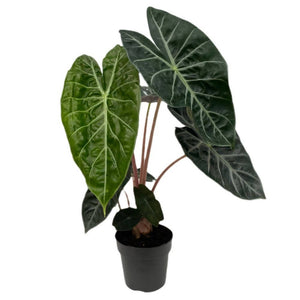 Tender Loving Care Advice for Alocasia Pink Dragon :
Alocasia Pink Dragon is a tropical foliage plant. The leaves are glossy dark green with deep veins that looks like a dragon's scale. The stems are pink in color and looks very special. It is an excellent and easy-care indoor house plant.
Alocasia Pink Dragon enjoys humid environment and prefers bright filtered light. Avoid direct sunlight that can scorch its foliages.

Care Instructions:
Semi shade, water 1 to 2 times a week.
*Product photo shown is for reference only. Actual pot colour, type of pot, size & arrangement may differ from photo.