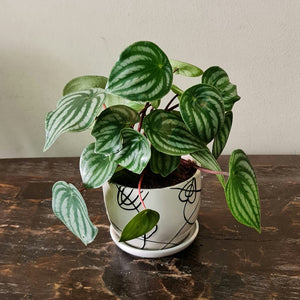 Tender Loving Care Advice for Peperomia argyreia (Watermelon Peperomia) in ceramic pot :
Watermelon Peperomia is a small variety of plants originating from Brazil and is identified by its unique markings similar to a watermelon. Being a dwarf cultivar, the plant does not grow more than 30cm in height. It makes a perfect choice as a table top house plant.
Like other Peperomias, this plant requires light and aerated substrates to ensure good ventilation for the roots and to maintain upright display of leaves. It is considered non-toxic to human and pets.
Growing Conditions 
Light: It prefers low to medium filtered light and can tolerate fair low light conditions.
Water: Regulated misting prefers and allow the plants to dry between watering. These plants are susceptible to root rot, avoid over watering and the use of high moisture retention substrate.
Soil: It prefers high quality peat based, well drained loose media.
Fertilizer: Apply fertilizer once every two months with diluted strength of balanced fertilizer.
Pests & diseases: Relatively pest resistance. The only possible common pests that bug Peperomia plants include spider mites and mealy bugs. If possible, identify the infestation as early as possible and treat it with the least toxic option.
*Product photo shown is for reference only. Actual pot colour, type of pot, size & arrangement may differ from photo.